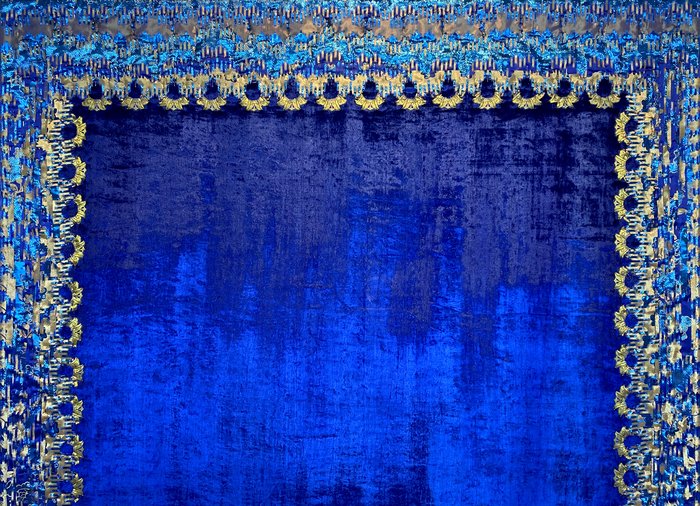 Gulnur Mukazhanova. Moment of the Present #27, 2021. Aspan Gallery. Asia Now art fair. Paris, 2023. Courtesy of Aspan Gallery
The ninth edition of Asia Now shows how far this platform has evolved over the past decade. In the heart of Paris, you can hear distinctive stories about the real experiences of other people from different parts of the world, learn new names and enrichen your own understanding of traditions from the East.
Today geographical diversity has become a defining feature of the art market. Over the past two decades China, South Korea, the United Arab Emirates and Turkey among others have been shaping national institutional and commercial art scenes, in which artists are building careers, collectors are assembling collections, biennales and fairs are carving out new niches and gaining in international status. More recently Central Asian countries and Iran are treading the same path. Interest in contemporary Asian art is so high that Asia Now fair is held alongside its bigger cousin, Paris Art Week.
To the conglomeration of different art events, from Paris+ at the Grand Palais Ephemere, and Design Miami/Paris, as well as Asia Now, collectors arrived, and galleries gathered. There was a strong institutional programme in the city's numerous top museums, taking advantage of the concentration of industry insiders, including collectors, from billionaires to budding collectors, amateurs, museum professionals, curators, critics and consultants of all stripes. There were unprecedented security measures this year, in both the indoor and outdoor venues. Twenty-five large scale sculptures were on view in the Tuileries Park where they will stay until mid-November, including Urs Fischer's (b. 1973) monumental 'Wave' shown by the Gagosian Gallery which has moved to Place Vendôme.
Asia Now at the Mint brought together sixty-five galleries representing a few hundred artists from across twenty-six different territories. Guest curators the Slavs and Tatars created a special project called 'Parcours' which taught the international art crowd the word 'Bagdar' meaning 'directions' in the Kazakh language. Objects made by fourteen artists from Central Asia, including ikats, embroideries, wallpapers and paintings were placed in different areas throughout the Monnaie de Paris. The traditional technique of dyeing threads and creating ikats is called abrandi in Iranian translated as 'to tie clouds.' To contemporary audiences, the phrase 'tying clouds' adopts a new meaning: digitalisation has given us cloud storage, the connection of clouds of information is like the connection of threads of different colours. The Slavs and Tatars, founded in 2006, have an exceptionally idiosyncratic practice. They mix together pop culture, spiritual and esoteric practices, and urban interventions - in 2020 they opened a conceptual Pickle Bar in Berlin's Moabit neighbourhood. The Slavs and Tatars work with oral histories, contemporary myths, and street practices, and yet their projects almost always involve a lot of research.
Emmanuel Perrotin, mega art dealer in the field, who has established branches of his eponymous gallery in Seoul, Hong Kong, Tokyo and Dubai, exhibited paintings and works on paper evocative of manga style by a Japanese woman who signs her name with the modest letters ob (b. 1992). To give an example of pricing, a large work, 'Garden with a Fountain', created earlier this year was offered for 49,000 Euro. There were established galleries with a strong focus on Orientalist artists, such as Galerie Tamenaga in Paris and Anna Laudel which has spaces in Istanbul and Düsseldorf. South Korean gallery Gana Art devoted its entire stand to artist Park Sukwon (b. 1942) whose large abstract work 'Accumulation 1672' on sale for 45,000 Euros, resembles the style and aesthetics of his famous Korean compatriot Park Seo-bo (1931–2023), but is ten times cheaper. Aspan gallery from Kazakhstan, no newcomer to the international art scene, exhibited works by female artists, including Saodat Ismailova (b. 1981) and Gulnura Mukhazhanova (b. 1984). Mukhazhanova's textile work 'Moment of the Present' was offered for 13,600 Euros. Tabari Art Space from Dubai offered large-scale figurative paintings with the theme of female suffering whether through violence or humiliation by Emirati artist Maitah Abdalla (b. 1989). Prices for her works ranged from 3,000 to 20,000 Euros.
A few galleries with Russian backgrounds stood out from the crowd. Nika from Dubai showed two mid-career artists, Korean Minja Gu (b. 1977) and Alexander Ugay (b.1978). Gu's watercolours and sculptures were united by a curious theme: observation of her own consumption. A white sheet is laid with rows of tomatoes, the result of an ascetic practice where one cannot eat a vegetable without drawing it first. Her 'Frozen Series' consisting of elegant photographs with icy apple slices costing 5,000 Euros each. Alexander Ugay's intellectual project comprised photographs that look like documentary shots of Korean immigrants who, against their will, ended up in the USSR in 1929. It is a real historical event but all of the photos were created using AI. Each poignant - yet fake - photo was offered for 1,000 Euros. Fragment Gallery based in New York presented sculptures and objects by South Korean artist Young-jun Tak (b. 1989).
The fair was accompanied by an exceptionally broad programme of panel discussions, which, to the organisers' credit, showed that the territories included in Asia Now are not only creating art, whether painting with acrylics, drawing, weaving, sculpting, photographing or generating images using AI. Contemporary Asian art is a crucible for new ideas which are of interest to intellectuals from all around the world. One of the panels was moderated by Nicolas Bourriaud, author of the cult book 'Relational Aesthetics', who reflected on the Guangzhou Biennale. And Anita Zabludowicz, a collector and trendsetter, shared with audiences her personal attitude to contemporary Asian art.