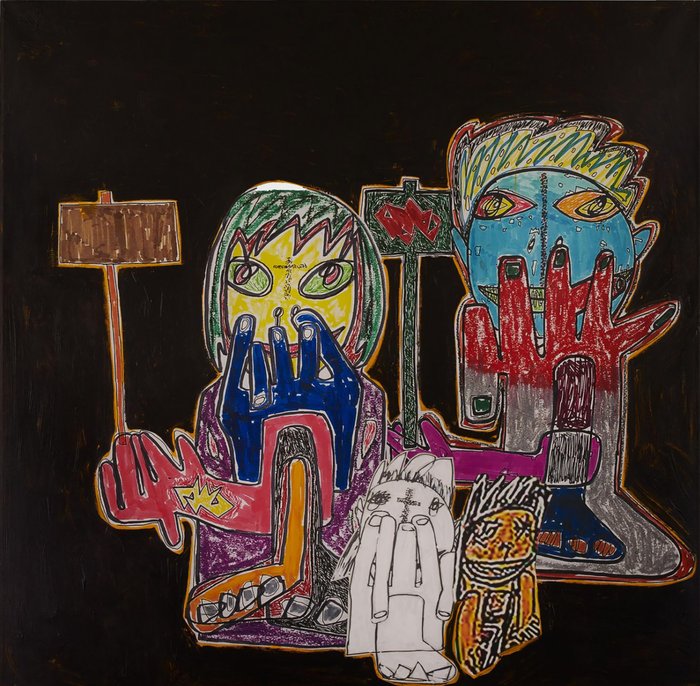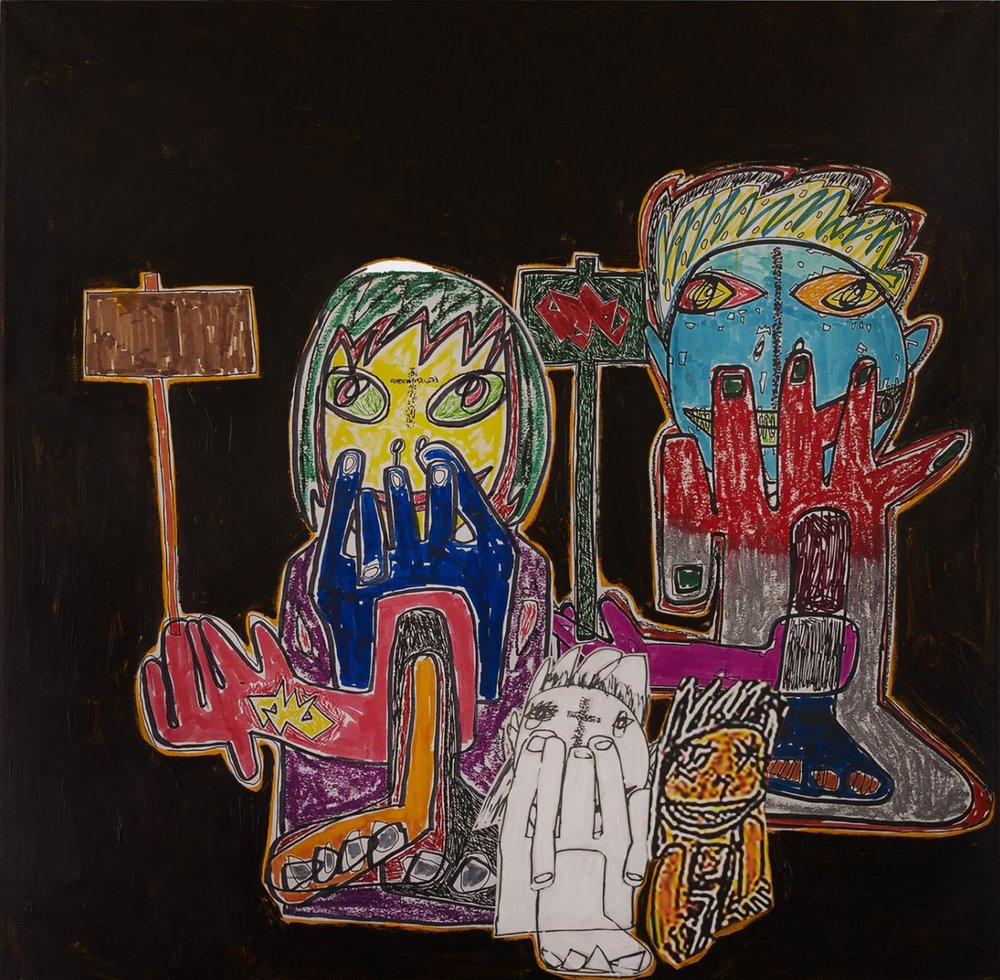 Richard Prince. Untitled, 2021. Benefit for Ukraine's People & Culture, auction de Pury. Scuola Grande Di San Rocco Venice, Italy
This was the season of art sales for charity. With a new world auction record set by Warhol's 'Shot Sage Blue Marilyn' at Christie's in May, the biggest charity sale in history, and numerous impromptu art sale initiatives for the Ukraine, charity sales are surely not about winners and losers but raising funds at any cost. Yet it seems that you still need more than just a good cause to sell art for charity.
There is much said these days about the democratisation of the art world, and using its existing power structures to fundraise for good causes is surely part of this. In fact, while searching on Christie's website recently I noticed you could click on a button to bring up lots which were being sold for charitable causes. This spring, the international art community, including some Russian artists, rallied around with fundraising efforts both large and small to support Ukrainian causes, all within weeks of the conflict starting. How does the otherwise highly competitive commercial art world best act as a steward when selling art for philanthropic causes?
When it comes to blue-chip art the chips are never down. Do we even think of the historic Rockefeller auction or Warhol's 'Shot Sage Blue Marilyn' as charity sales? In essence they are, but the charitable element becomes more an afterthought because of the buzz of an iconic collector or a piece of trophy art. In fact such sales are a great act of philanthropy on behalf of the donor (even despite beneficial tax breaks) because they are giving real and extremely valuable assets away and significant funds to charitable causes. With the auction of the Warhol, part of the sale even involved the successful buyer nominating where 20% of the funds would go.
When we normally think about art charity sales, we think of selling initiatives of an organisation or curator to raise funds for charity by selling art. These sales are far more nuanced and challenging than auctioning off an iconic painting from a legendary collection. There are several factors which are crucial: a charismatic auctioneer, a conducive atmosphere, or mood, the right people in the room; and good timing helps.
The right mood and a theatrical cheerleader is all very well, but how does that work in an increasingly digitised art world? The tide of digitisation sweeping the art world, is itself a democratising force, making art collecting more accessible and less elite, however, does it not fall flat when it comes to buying and selling for charity? A successful charity sale is as much about capturing the mood of the people and harnessing a sense of community, as it is about people pledging money for a worthy cause or even selling good art.
The most successful art charity auction this spring was in Venice during the opening week of the Biennale. The timing was right: it was barely two months into the conflict and the Ukraine was weighing high on everyone's minds, the biggest threat to European and world stability since the second world war. People came to Venice wanting to forget the pandemic and celebrate together with abandon, but no-one could avoid the new elephant in the room. It was into this atmosphere that a charity sale was launched to raise funds for the Ukraine.
Launched not so much like a gondola on the grand canal but a royal yacht on the open sea with a supersonic motor. The auction was a dinner event, it was the most stylish ticket in town, the right people were there and guests reached deep into their bespoke pockets. Held at the Scuola Grande di San Rocco with tables lit by lanterns, it was the perfect setting for high philanthropy. Hosted by Ivy Getty and Peter Brant Jr, it was attended by movers and shakers of the art world: Larry Gagosian, Princess Alia Al-Senussi, Francesca Thyssen-Bornemisza, the list could go on; the auctioneer was septueganarian tour-de-force Simon de Pury. Extraordinarily, it was all organised within less than two months of the conflict starting, it seemed people had a need to give something, there was a collective outpouring that night and the sale made $1.3million. The first lot set the pace, a figurative painting by Ukrainian artist Maria Prymachenko (1909–1997) gifted by her grand-daughter sold for a staggering 110,000 Euros outstripping the previous record (for a single sheet) at auction by nearly tenfold.
The unexpected and tragic events unfolding this Spring, ultimately led to all of the big auction houses in London and New York cancelling their Russian art auctions and at the same time turning their attention to raising money for Ukrainian causes to greater or lesser degrees of success. There were numerous lots by contemporary artists auctioned for charities to benefit the Ukraine within mixed contemporary sales, both live and online. Many artworks were by Ukrainian artists, others were donated by international artists including Juergen Teller (b.1964), Yoshimoto Nara (b.1959) and Olafur Eliasson (b.1967). In May at Sotheby's in London there was a group of 28 lots included in the 'Contemporary Discoveries' auction offered to benefit the International Rescue Committee, and at Christie's in New York 11 lots were donated by artists and galleries in the Post-War and Contemporary Art Day Sale. This time there was none of the frothy uplift seen in Venice. In both sales, the bidding was mutted; in London only two lots sold for over their high estimates; in New York the results for works donated by Ilya and Emilia Kabakov and Boris and Vera Mikhailov were disappointing. Perhaps without their own dedicated platform, these works were lost. And without a community present to cheerlead people's better instincts, selling art for this worthy cause in the traditional art auctions was a tough call. Further, the auction at Sotheby's was online so lacked any real human presence to make a difference, despite pre-sale exhibitions and marketing efforts on social media and mainstream press outlets.
Beyond offering lots in mixed auctions this Spring, Christie's announced a tripartite travelling sales exhibition titled 'Safeguarding the Irreplaceable', touring New York, London and Paris, said to be worth around $1million, money which is pledged to the Ukrainian Heritage Response Fund at the World Monuments Fund. They are currently on the third leg, showing among other works the Pereman collection of Odessan Parisians at Christie's in Paris, a fitting location for these Ukrainian Jewish artists who were part of the Ecole de Paris, although little known there today. Some of the funds for the sale of this collection will go charitable causes.
In terms of value, it is Christie's and Phillip's who have staged the most impactful charitable initiatives for the Ukraine this Spring. In March, Phillips auction house pledged $7.7million to the Ukrainian Red Cross, the entire sale proceeds from their marquee auction in New York, an extraordinary and unprecedented step. Although, as was widely reported in the international art press this came on the back of calls among collectors to boycott their sales because of their Russian ownership. To top all, however, at Christie's this June Viktor and Olena Pinchuk offered at auction Jeff Koons' Magenta balloon monkey, one of the gems of their art collection. It sold for just over $12million to Danish art collector Jens Faurschou with all the funds pledged to Ukrainian charitable causes. A blue-chip artwork at attractive auction estimates, it led to some good bidding, and although it netted considerably less than the feted sale of the orange balloon dog sold at Christie's nearly a decade ago, it is an extremely decent and generous pledge which will surely be felt where it is most needed.
Koons & Kabakov are household names with established collector bases; at the other end of the spectrum on the charitable sales market are works by emerging artists. Numerous sales initiatives this Spring have offered Ukrainian artists who are little known outside their homeland, such as Maria Prymachenko. In my opinion, introducing new or little known Ukrainian artists to the international art market is an act of philanthropy in itself. Artists donate their works, the auction house either waives the commission fee or reduces it, and the artist gets an international platform at Sotheby's or Christie's. It looks like a double win, yet it is often in reality a bitter-sweet pill. The results bear out that for every success story there are half a dozen less successful and the odd near failure, it does not ultimately lead to future sales. Take the Ukrainian artist Pavlo Makov (b.1958) whose work is currently on show at the Ukrainian pavilion in Venice. A beautiful print in his inimitable style went unsold at just £1,500 at Sotheby's in May. It is easy to forget that generally auctions can only take the primary market so far (unless you are Damien Hirst), something which seems to apply to charity sales too and something which is frustrating for artists from countries outside either the mainstream or the 'courted periphery', and the latter does not include either Russia or Eastern European countries, perhaps with the exception of Romania and Poland.
Within Russia itself, several artists, including established names such as Vladimir Dubossarsky (b.1964), Haim Sokol (b.1973) and Kandinsky prizewinner Andrey Kuzkin (b.1979) have been collaborating on grassroots art sale initiatives to raise money for Ukrainian refugees. Unlike in Europe where displaced Ukrainians are given free tickets on transport, those who go to Russia urgently need funds for further travel into the country to friends, relatives and safe spaces and for living and healthcare. These are rapidly organised one-day selling exhibitions advertised among the Moscow art community on social media: the first took place mid June and building on its success another follows early in July at the XL Gallery in Moscow's Vinzavod art cluster.
The postscript has to go to Maria Prymachenko, who gets my vote as artist of the season. I hope we will see more of her work in future on the auction market. Selling a small gouache for over 100,000 Euros is an enormous feat for an art who has otherwise scant records. And her bright naïve, figurative aesthetic fitted this Biennale, tying in with Cecilia Alemani's female show, where there were several works by Prymachenko on view in the main pavilion. It takes more than a swallow to make a summer, but this result alone will have brought the artist to the attention of international collectors. This is a double win. And who in the artworld now has not heard her name?